Holistic Wellness and Self-Care
Holistic wellness recognizes the interconnections between domains of wellness and promotes living integrated lives within the context of a healthy, engaged, and inclusive community.
We can engage in self-care within any of the domains of wellness. Each domain intersects with and impacts the others. Below you'll find examples of different types of self care in each domain of wellness. For more information on navigating mental health and accessing resources, check out our Handouts and Health Resources page.
| | | |
| --- | --- | --- |
| Domain | Characteristics | Associated Self-Care |
| Intellectual | Lifelong learning; connecting curricular and co-curricular; creativity; critical thinking; supporting academic engagement and success | Read a book; try something new; teach someone how to do something you enjoy |
| Socio-Cultural | Multi-cultural respect and competence; healthy, respectful interpersonal relationships; values of acceptance, fairness and justice; recognition of the contribution of the community to individual wellness, and vice versa | Learn to say no; spend time with people who make you feel good; model healthy, respectful interpersonal relationships; stand up for yourself and for others around you; volunteer for a social justice cause |
| Spiritual | Belief system which contributes to a sense of purpose; hope and optimism; sense of belonging | Take time for self-reflection; spend time in nature; find spiritual community; meditate; dance; pray; take yoga; volunteer to help others; foster self-forgiveness |
| Emotional | Expression of emotions; stress management; assertiveness; intimacy; balance between interdependency and independence | Express how you feel; laugh; play; practice self-compassion; journal; cuddle with a pet; engage in a daily gratitude practice; affirmations; take time to reflect and notice how you're feeling; work to strike a balance between interdependency and independence |
| Physical | Physical fitness; healthy nutrition; medical awareness and disease prevention; injury prevention; healthy sleep habits | Get enough sleep; exercise; eat healthy; take a walk; dance; turn off your cell phone and pay attention to the physical sensations you experience; enjoy a cup of tea; listen to music |
| Environmental | Awareness of and connection to surroundings; safety enhancement; understanding the impact of personal choices; stewardship of resources | Go into nature; feel your feet on the grass; watch the sunset; volunteer to pick up trash |
| Career/Financial | Purposeful and rewarding career; financial stability and planning; household management skills | Save money for the future; practice a skill that might help you in your chosen career; reflect on what activities give you a sense of purpose and then do that |
The Well Campaign is designed to promote the idea that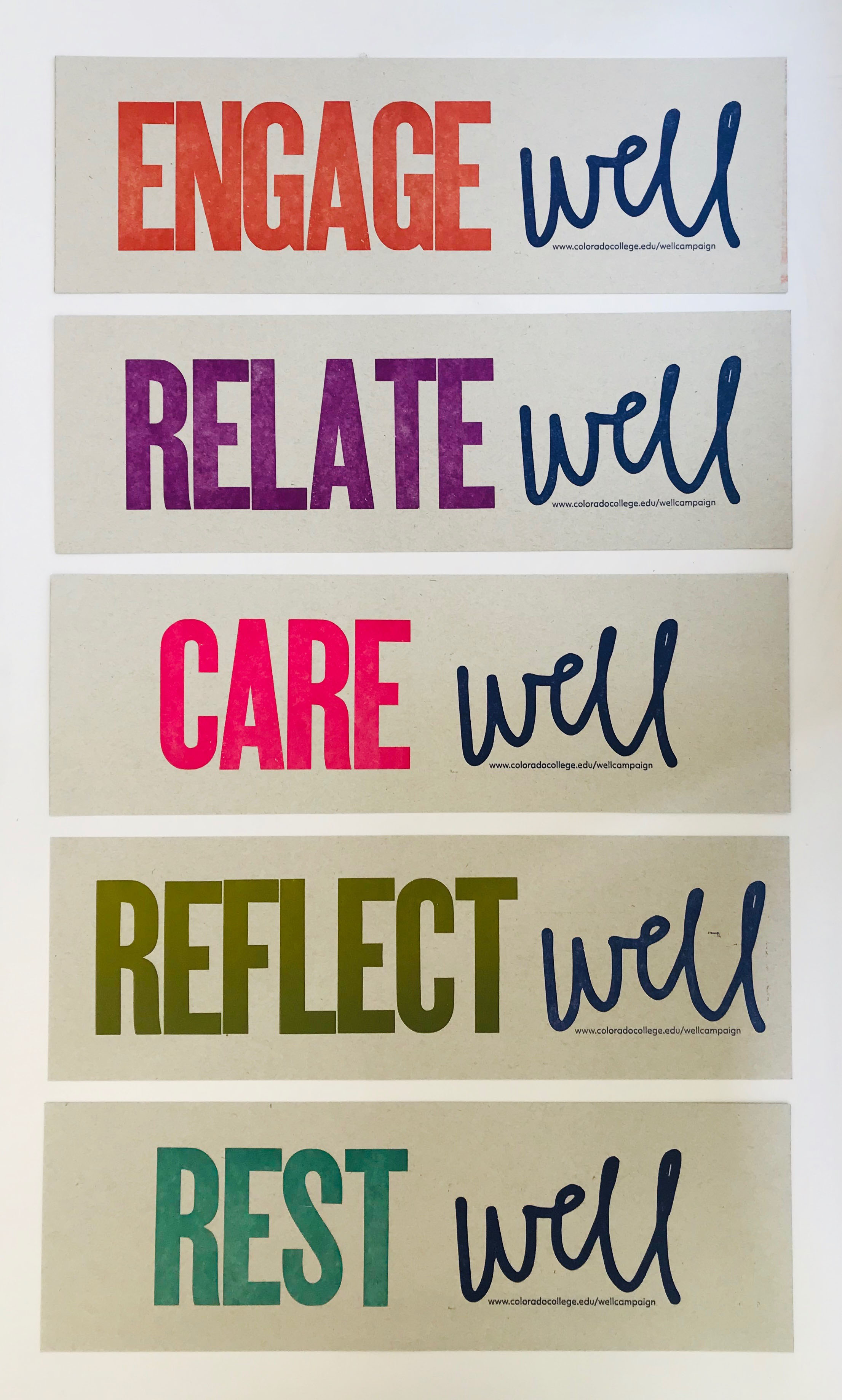 wellness is a process-rather than being an end goal, wellness is something to continually strive for. The campaign builds on the holistic model of wellness to highlight five practices that help facilitate well-being: engage, relate, care, reflect, and rest.
The Wellness Resource Center uses the holistic model of wellness as the underlying philosophy for promoting students' health and well-being as whole people. The support and educational initiatives we offer reflect the understanding that the spiritual, intellectual, emotional, physical, environmental, socio-cultural and financial aspects of our lives are all deeply connected. With this framework as the context for our work we aim to create an environment in which everyone can thrive and be well, a community that is inclusive, equitable, consent-oriented and trauma-informed. Striving for wellness-both personally and communally-is also a matter of justice. Some of the facets of the Well Campaign (rest, reflect) are more personal and others are more social (engage, relate), but each requires vulnerability, self-awareness, communication and an emphasis on growth.
Engage
Strive for open-mindedness and curiosity (not just in academic settings)

Apply your creativity and intellect when learning new things

Be self-critical

Be present in what you do and try not to over-commit (it's hard to engage when you're spreading yourself too thin)
Relate
Empathy: seeking to understand another person's experience

There's value in comparison: learn about yourself by learning about others

Be critical of individualistic thought
Care
Self-care

Check in with your friends and communicate that their well-being matters to you

Being an active bystander as a form of community and environmental care
Reflect
Are different relationships, endeavors, activities serving the purpose you want them to

What are you learning?

How have you changed through an experience or an event?

Personal (journaling, thinking) or social (conversations with friends and family)

Build in time to your routine to consider how things are going
Rest
Break up your routine to get rejuvenated

Sleep

Doing things you don't usually do

Resist narratives of productivity

Taking a mental break, distracting yourself, thinking about other things
By joining the JED Campus program, Colorado College is demonstrating a commitment to the emotional wellbeing and mental health of its students and entire campus community. The JED Campus program takes a comprehensive, public health approach to promoting emotional well-being and preventing suicide and serious substance abuse. JED Campus schools embark on a multi-year strategic collaboration that not only assesses and enhances the work that is already being done, but helps create positive, lasting, systemic change in the campus community. As part of our JED Campus participation, we are also participating in a pilot of the Equity in Mental Health Framework, a collaboration between JED and the Steve Fund, which is focused on assessing and strengthening support for mental health and emotional well-being of students of color.
During the 2017-2018 academic year, we collected data through surveys, audits, and focus groups. This self-assessment helped us to identify our campus strengths and areas of improvement in seven (7) areas identified by JED as key elements to mental health promotion and suicide prevention.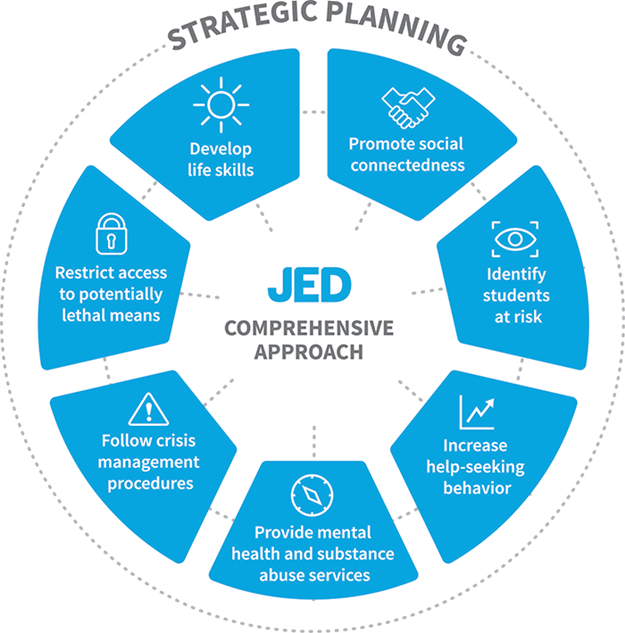 Highlights of Colorado College Campus Strengths include:
Promote Social Connectedness: The college has invested in equity and inclusion work broadly across campus.
Increase Help-seeking Behavior: The college has policies and processes which encourage help-seeking, and also provides ready access to information and resources.
Provide Mental Health and Substance Abuse Services: The Counseling Center offers comprehensive services, including 24/7 on-call, and has increased the number of providers and hours of service
Follow Crisis Management Procedures: The college has excellent 24/7 resources and notification systems.
Restrict Access to Potentially Lethal Means: The college has utilized a master space plan to identify and mitigate access to lethal means.
Highlights of Colorado College Areas for Growth include:
Identify Students at Risk: The college already offers excellent Gatekeeper trainings (i.e., Mental Health First Aid and QPR); increasing participation of faculty and staff is a priority.
Promote Social Connectedness: Collaborating and consolidating training for the various peer mentorship programs, continuing to address the concerns of under-represented groups, and developing more opportunities that allow students to deepen relationships across blocks are priorities.
Develop Life Skills: The college already offers a wide array of programs and opportunities for students to develop life skills, but programming is siloed. Assessing the efficacy of current programming, and creating opportunities to increase collaboration and integrate the curricular and co-curricular are priorities.
As part of the JED Campus Project, we administered the Health Minds Survey in 2018 and 2021.  Data from this survey is used to better understand campus needs and to add to and improve services, programming, and prevention education.  You can find the Executive summary of the 2021 data here.  If you have questions or would like to discuss the ways in which we are using this information, please contact hhorton@coloradocollege.edu.
show all / hide all