Mental Health Promotion and Suicide Prevention
Our Approach
All people experience a range of challenges in our lives that can result in significant stress, mood changes, excessive worry, problems with eating and/or sleeping, and other symptoms of mental distress. The Wellness Resource Center is here to help you navigate such challenges by offering direct support to students, referral to other campus resources, and workshops and programs to help you build coping skills and resiliency. We ground our work in the idea that mental health means something different for everyone, and that students prefer different types of resources and support based on their life experience, family and cultural backgrounds, and personal values.
We take a holistic approach to mental health promotion work, founded on the premise that we can't truly thrive in any one area of life without also nourishing ourselves in others. This is especially relevant in college, when it's easy to invest heavily in academic and social life and neglect other parts of ourselves. We are also committed to educating the campus community about suicide prevention through a combination of direct intervention techniques and culture change efforts to normalize talking about mental health and asking for help.
Accessing Mental Health Resources: Multiple Points of Entry
We often think of mental health as only being relevant when someone is having a hard time, but we can all engage supports and resources along the full spectrum of well-being. The below Stepped Care Model allows us to better match services and supports--clinical and non-clinical--to the needs and goals of individual students. The spectrum of mental health supports at Colorado College include self-help resources, emotional wellness and spiritual life workshops and programs in which students can develop skills and practices that help them manage their emotional well-being, peer supports, and problem-focused consultations and counseling sessions, individual and group psychotherapy, and medication management. Our aim with this graphic is to engage students in understanding their own needs, and to work with them to identify the services that will be most useful in helping them move toward thriving. Talking to member of the WRC staff (we're located in 230 Yalich Student Services Center) is also a great way to figure out which campus supports might be helpful for you.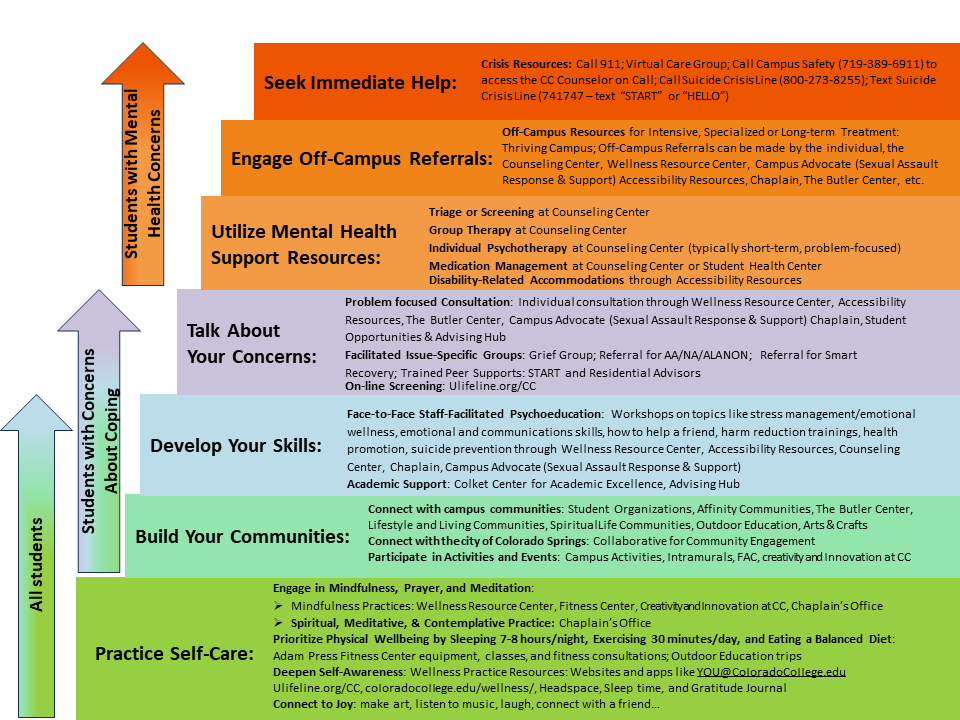 Sexual Assault Response & Support
Cassie Luna cluna@coloradocollege.edu, (719) 227-8101
The Counseling Center
You can also reach the Virtual Care Group through their dedicated counseling line 24/7: 855-522-1226.
24/7 Mental Health Support for Students
Free, unlimited access to therapists and on-demand counseling 24 hours a day, seven days a week, 365 days a year including holidays
The Chaplain's Office
Chaplain Kate Holbrook is a confidential resource and can offer emotional and spiritual guidance to students.
Kate Holbrook (719) 389-7986 kholbrook@coloradocollege.edu
Accessibility Resources
Accessibility Resources coordinates accommodations and services for students with disabilities and temporary medical conditions and collaborates with faculty and staff to support students' academic and co-curricular experiences.
accessibilityresources@coloradocollege.edu, (719) 227-8285
The Student Opportunities and Advising Hub
Teresa Leopold (719) 389-6141 tleopold@coloradocollege.edu
ULifeline
This online resource has information about mental health, as well as a self-evaluation screening which does not provide a diagnosis, but identifies problems that could be impacting thoughts, feelings and behaviors. The screening process also provides information on these conditions and how to reach out for help.
National Crisis Services for Students of Color
Are you a young person of color? Feeling down, stressed, or overwhelmed? Text STEVE to 741741 and a live, trained Crisis Counselor will respond.
There are also many initiatives offered from within the WRC focused on supporting students with mental health challenges, building resilience and coping skills, and educating the campus community around mental health literacy, culture change, and harm prevention.
If you yourself are having a hard time, check out the Journaling Series or Self Care and Resilience Skill Building series on the Workshops and Programs page.
If you want to learn about best practices in trauma-informed care and supporting others with mental health challenges, Mental Health First Aid or the How to Help workshop series could be for you. The BADASS Active Bystander Intervention Program also covers how to respond to people in distress and intervene to prevent potentially harmful situations.
We also have some print and online resources on topics like managing grief and choosing a therapist. If there's something you're not seeing, just let us know!
show all / hide all