O'Connor Lecture
The Annual Daniel Patrick O'Connor Memorial Lecture exists to promote the principles of scholarship, research, and volunteerism in the service for social justice. The Daniel Patrick O'Connor Memorial Lectureship Endowed Fund is made possible through generous contributions from Margaret O'Connor, Michael and Kathie O'Connor, and their friends.
2023-2024 O'Connor Lecture
Ruth Wilson Gilmore
"Change Everything: Radical Capitalism and the Case for Abolition"
This lecture will explore concrete possibilities for people involved in undergraduate and graduate education programs to think about how abolition involves all spheres of human existence — not only, even if urgently, police and prisons. Inspired by and drawing on legacies of liberation movement scholarship and organizing, the talk will explore a number of inter-disciplinary dimensions, institutional forms, and internationalist solidarities that come clearly into focus when we use an abolition lens to view how what makes the world can be transformed in the process of making a world where life is precious.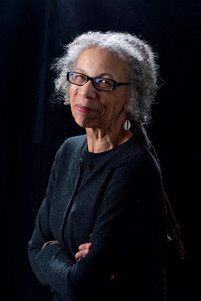 Thursday, November 9th, 2023 at 7:00pm
Richard F. Celeste Theater
Edith Kinney Gaylord
Cornerstone Arts Center
825 N. Cascade Ave.
Ruth Wilson Gilmore 
Ruth Wilson Gilmore is a writer, educator, and researcher. She is a professor of earth and environmental sciences, and American studies at the Graduate Center of the City University of New York, New York, where she is also director of the Center for Place, Culture, and Politics.  
Gilmore writes about abolition, racial capitalism, organized violence, organized abandonment, changing state structure, the aesthetics and politics of seeing, labor and social movements, and internationalism. She is the author of "Abolition Geography: Essays Towards Liberation" (2022), and of the prize-winning "Golden Gulag: Prisons, Surplus, Crisis, and Opposition in Globalizing California" (2007). With Paul Gilroy she edited "Stuart Hall: Selected Writings on Race and Difference" (2021). "Change Everything" is forthcoming from Haymarket. The Antipode documentary Racial Capitalism with Ruth Wilson Gilmore (dir Kenton Card, 2020) features her internationalist work.  
She has co-founded many grassroots organizations including California Prison Moratorium Project; Critical Resistance; and Central California Environmental Justice Network. Honors include the Ralph Santiago Abascal Prize in Economic and Environmental justice (2003); the Southern California Library Lifetime Achievement Award (2007); A New Way of Life Re-entry Project Lifetime Achievement Award (2010); the American Studies Association Angela Y. Davis Award for Public Scholarship (2012); the Association of American Geographers Harold Rose Award for Anti-Racist Research and Practice (2014); the SUNY-Purchase College Eugene V. Grant Distinguished Scholar Prize for Social and Environmental Justice (2015-16); and the Lannan Foundation Lifetime Cultural Freedom Award (2020). In 2021 Gilmore was elected to the American Academy of Arts and Sciences. She is a Marguerite Casey Foundation 2022 Freedom Scholar. In 2023 Clark University awarded her the honorary degree of Doctor of Humane Letters.