AKD Honor Society
Alpha Kappa Delta (AKD) International Sociology Honor Society was founded in 1920 by USC sociologist Dr. Emory S. Bogardus. The Society is intended to stimulate sociological scholarship and to promote the scientific study of society. The AKD Chapter at Colorado College is headed by Gail Murphy-Geiss, Professor of Sociology. AKD at CC inducted its first members in 2005 and will continue to invite students who meet the following criteria:
Be an officially declared sociology major or demonstrate a serious interest in sociology within an official program of the host institution.
Be at least a junior (third year) by standards of the host institution.
Have accumulated the equivalent of an overall GPA of 3.0 and rank in the top 35% of their class in general scholarship.
Have maintained the equivalent of a 3.0 GPA in sociology courses taken at the host institution prior to initiation.
Have completed at least four regular courses in sociology prior to initiation (exclusive of extension or courses graded pass/fail).
---
AKD Undergraduate Student Paper Competition
Each year, AKD holds an undergraduate student paper competition. Senior sociology majors frequently submit their theses, and someone from CC often places in the top three. Here's a list of past winners from the Colorado College Sociology Department:
2023 3rd Place: 

Andra Metcalf, "Complicating Police Culture: Police Perspectives on Blue Lives Matter and the Thin Blue Line"
2022 1st Place: 

Ema Smith, "Complicating Police Culture: Police Perspectives on Blue Lives Matter and the Thin Blue Line;" 3rd Place: Katie Trinh, 

"I Was Accepted Here, But Am I Actually Accepted Here?: The Role of Race, High School Background, and Social Networks in Student Belonging at a Small, Predominantly White College"


2021 1st Place: 

Alessandra Ahlmen,

"The World is Stopped, but We Keep Going: Nurses' Processes of Emotional Labor During the SARS-COVID19 Pandemic"
2021 3rd Place: Abigail Williams, "Street Perspectives: How Street Roots Vendors are (Re)Creating the City of Portland"
2020 3rd Place: Bryn Morgan, "Coercive Control and Physical Violence: College Students' Reporting of Intimate Partner Violence"
2018 1st Place: Lydian Ballantine, "LGBTQ Youth Homelessness: An Examination of Upstream Factors"
2017 1st Place: Nicole Hansen, "Sexual Assault as a 'Social Fact' A cross-Campus Analysis"
2017 2nd Place: Casey Sculler, "Haute Couture, Baggy Jeans, and L'homme Virile: Hegemonic Masculinity in U.S. Men's Magazine Advertisements"
2016 2nd Place: Alina Drufovka, "Inequality in the Information Age: From the Digital Divide to the Usage Divide"
2014 2nd Place: April Hearne, "My Mom's Wife: Children and Their Paid Careworkers"
2013 1st Place: Madeline Frost, "Speaking of Women: Gendered Language and Discursive Struggle in Domestic Violence Work"
2009 1st Place: Anna Wool, "Like Water off a Duck: Stigma and the Jewish Assessment of Christian Public Religious Displays in an Alabama City"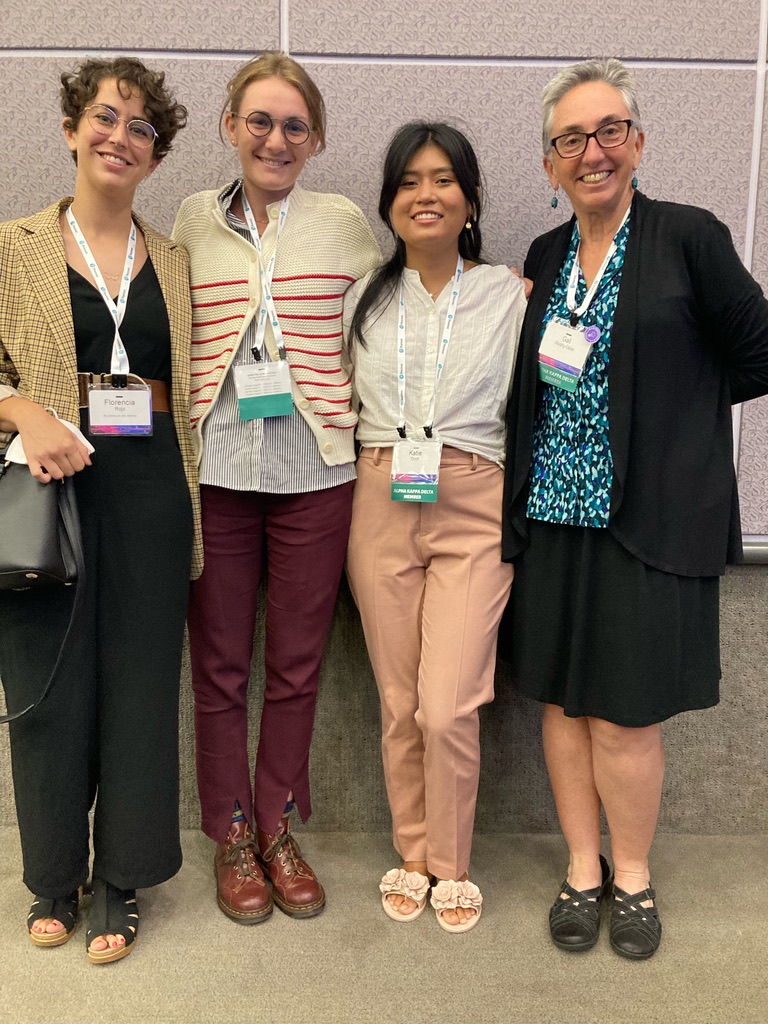 Ema'21 and Katie'22 were presented awards for the paper contest at the AKD Awards Session at the American Sociological Association annual conference in Los Angeles. 
---
2023 AKD Inductees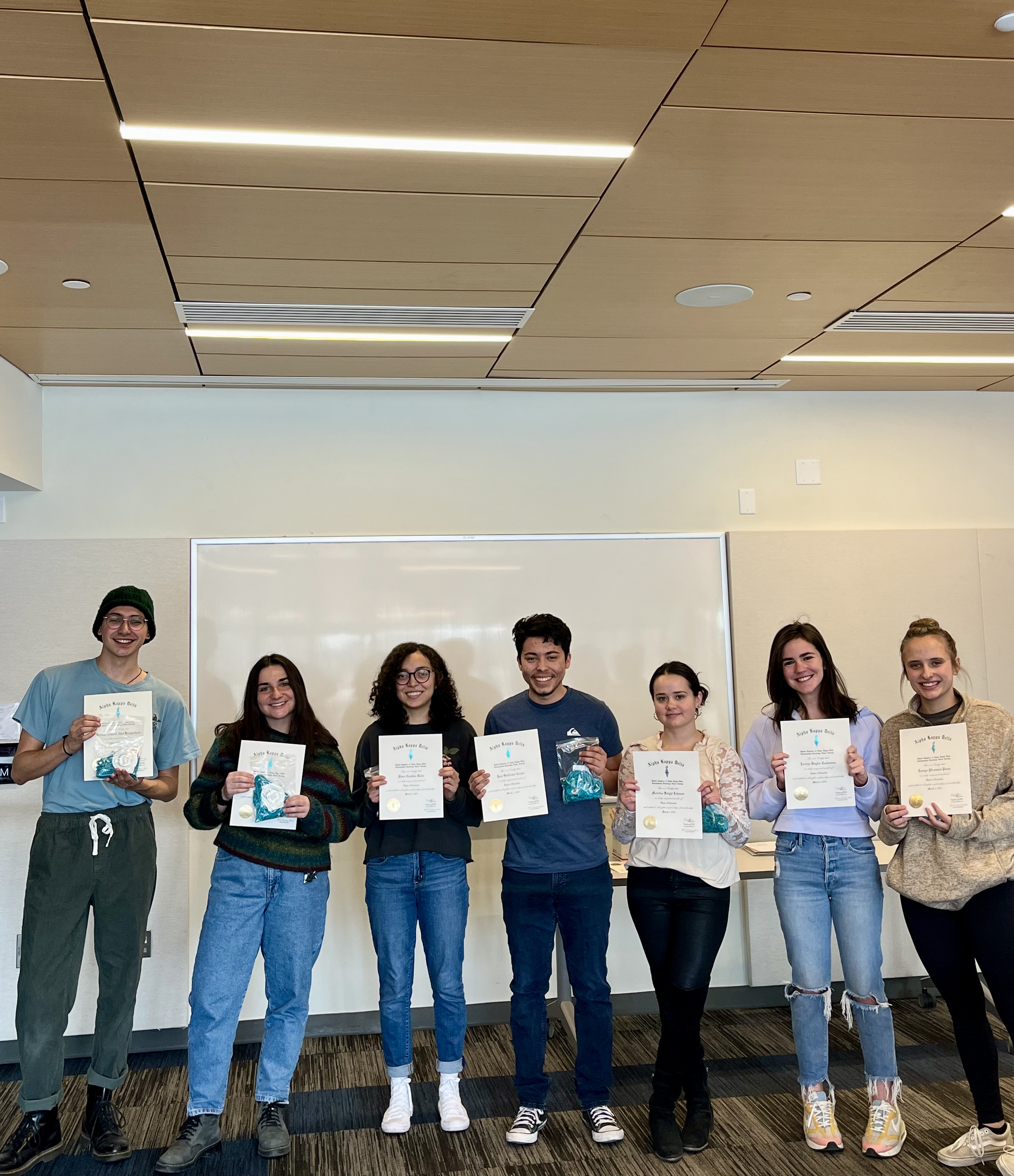 Danielle Bohart '24
Emma Fowkes '24
Peniel Owusu-Ansah '24
Sophia Hennessy '23
Megan Kelliher '24
Grace Tumavicus '23
Diana Buda '24
Jose Carpio '24
Madeline Johnson '23
Jocelyn Zuckerman'24
Alonso Rios Romero '23
Mariolivia Jimenez '24
Sophia Roback '24
Lauryn Pfrommer-Pease '23
---
2022 AKD Inductees
William Burglechner '23
Cedar Bennett '23
Cheney Hurley '23
Sydney Lau '23
Nina Goodkin '23
Josephine Ballew '23
Alanna Jackson '23
Mazlyn Freier '23
---
2021 AKD Inductees
Ramona Salgado '22
Elle Hagler '22
Flora Block '22
Benjamin Davies '22
Hannah Scott '22
Andra Metcalfe '22
Sierra Drossman '23
Ellie Pfeiffer '21
Laural Sullivan '21
Katie Trinh '22
---
2020 AKD Inductees
Stephanie Dewald '20
Miriam Brown '21
Benjamin Swift '21
Isabelle Aragon-Menzel '21
Yi Tong (Kelly) Yue '21
Alessandra Ahlmen '21
Jinyue (Sherry) Xu '21
Liam Reynolds '21
Lora Yip '21
Ema Smith '21
Dara Bellinson '21
Cameron Mongoven '21
Kieran Woerner '21
---
2019 AKD Inductees
Julia Chippari '19
Camilla Fuller '19
Sonya Padden '19
Emily Richardson '19
Elam Boockvar-Klein '20
Nicholas Boulos '20
Hailey Corkery '20
Belle Durkin '20
Lucy Feldman '20
Eliza Guion '20
Harley Guzman '20
Charlotte Majercik '20
Isabella McShea '20
Halle Schall '20
Abigail Williams '20
Jiexin Zhou '20
---
2018 AKD Inductees
Payton Hoops '18
Mark Scaggs '18
Emma Gonzalez '19
Chaney Skilling '19
Grace Perry '19
Kendall Stoetzer '19
Lam Vo '19
Lillian Dube '19
Bryn Morgan '19
Audrey Mack-Westby '19
Emma Kerr '19
Veronica Fernandez-Diaz '19
---
2017 AKD Inductees
Clara Houghteling '18
Caley Nicholson '18
Isabelle Nathanson '18
Meredith Bower '18
Willa Rentel '18
Talia Worth '18
Kyana Bell '18
Sierra Polston '18
Celia O'Brien '18
Jack Buettner '18
Emmanuelle Heyman '18
Marcela Onate-Trules '18
Michael Sorensen '18
Anna Holt '17
---
2016 AKD Inductees

Madelene Travis '17
Emiko Smikler '17
Nicole Holzman '17
Kali Place '17
Matthew Saraceno '17
Eliza Jacobson '17
Brooke Becker '17
Lydia Ballantine '17
Sophie Register '17
Amelia Mead '17
Nicole Tan '17
Cora Lubchenco '17
Genia Niemeyer '17
Erica Jamieson '17
---

2015 AKD Inductees
Merisa Muharemovic '15
Morgan Wack '15
McKenna Asakawa '16
Alina Drufovka '16
Celia Palmer '16
Nicole Hansen'16
Jane Finocharo '16
Anne Malecek '16
Casey Schuller '16
Vanessa Voller '16
---
2014 AKD Inductees
Rebecca Celli '15
Helen Feldman '15
Mindy Huang '15
Evalyn Grant '15
Rachel Maremont '15
Louisa Rich '15
Jordan Savold '15
Martha White '15
Sarah Freeman '14
Anna Kay '15
Antonina Pavlenko '15
Rebecca Willey '15
---
2013 AKD Inductees
Eva Grant '13
Gabrielle Kaminsky '13
---

2012 AKD Inductees
Marlana Wallace '13
Anu Atre '13
Caroline Nicholson '13
Kathleen Callahan '13
Maria (Ale) Chavez-Contreras '14
Lily Gil '14
Madison Sink '14
Aubrey Hasvold '14
Olivia Coble '14
---
2011 AKD Inductees
Sara Bodner
Angela Komar
Anna Fuchs
Hannah Wear
Elizabeth Michaels '13
April Hearne '13
Nicole Kaufman
Alison Suzukamo
---
2010 AKD Inductees
Sarah Wool
Nicole Santilli
Hannah Sohl
Rebecca Spiegel
Eliza Wicks-Arshack
Sophia Herscu
Katherine Rogers
Emily Moore
Madeline Frost
Kathleen Hallgren
Rebecca Beren
Emily Crouter
---
2009 AKD Inductees
Alyssa Aldaz '11
Ariella Epel '10
Tristan Dickison '11
Christina Holmes '11
Marlia Keeley '11
Gioia Garden '11
Nate Kerr '10
Britt Landis '11
Jordan Maze '11
Ellen Palazzo '11
Julia Sick '11
Ellie Smith '11
Lizzy Stephan '11
---
2008 AKD Inductees
Kelsey Pullar '09
Berenice Torres '10
Zoe Wick '10
Duncan Forbes '08
Ben Perdue '10
Mike Freeman '10
Lauren Jenkins '10
Katie Kantor '10
Anaïs Gude '10
Christina Yong '10
JJ Osterweil '09
Tucker Dunn '10
Emily Schneider '09
---
2007 AKD Inductees
Hunter Swain '09
Calen Hall '09
Elsa Frey '08
Lauren Hughes '09
Alice Gallmeyer '08
Sarah Diefendorf '09
Katelyn Bayne '08
Allyson Proske '08
Ashley Young '09
Sophie Kauffman '09
Lauren Abrams '08
Tabitha Hrynick '09
Caroline Hodge '09
Brittany Linton '09
Genai Odhner '09
Anna Wool '08
---
2006 AKD Inductees
Lauren Bogard '07
Ana Lara Roca '07
Kathleen Denny '07
Jessica Gingold '08
Amy Reedy '08
Jocelyn Corbett '08
Drew Gallaugher '08
Megan Berry '08
Drew Foster '08
Maya Zarchan '08
---