Department of Music
Unless otherwise indicated, all concerts are in Packard Hall, are free, and require no tickets.
General Parking Information: Street parking around Packard Hall is open after 5 p.m. on weekdays and all day on weekends. The Money Museum lot directly south of Packard is available for Music event attendees after 6 p.m. Monday through Saturday and all day Sundays. Complimentary two-hour parking and metered parking is offered near the Spencer Center at 830 N. Tejon St. Additionally, music events may have designated visitor parking in campus lots; see events below for more information. See the Campus Map and select "Parking Lots" in the upper right corner of the map.
Upcoming Events
Colorado College is hosting multiple events on this evening, and additional parking information will be posted soon. Shove Chapel will open at 6 p.m. for open seating and concert attendees are encouraged to arrive by 6:15 p.m.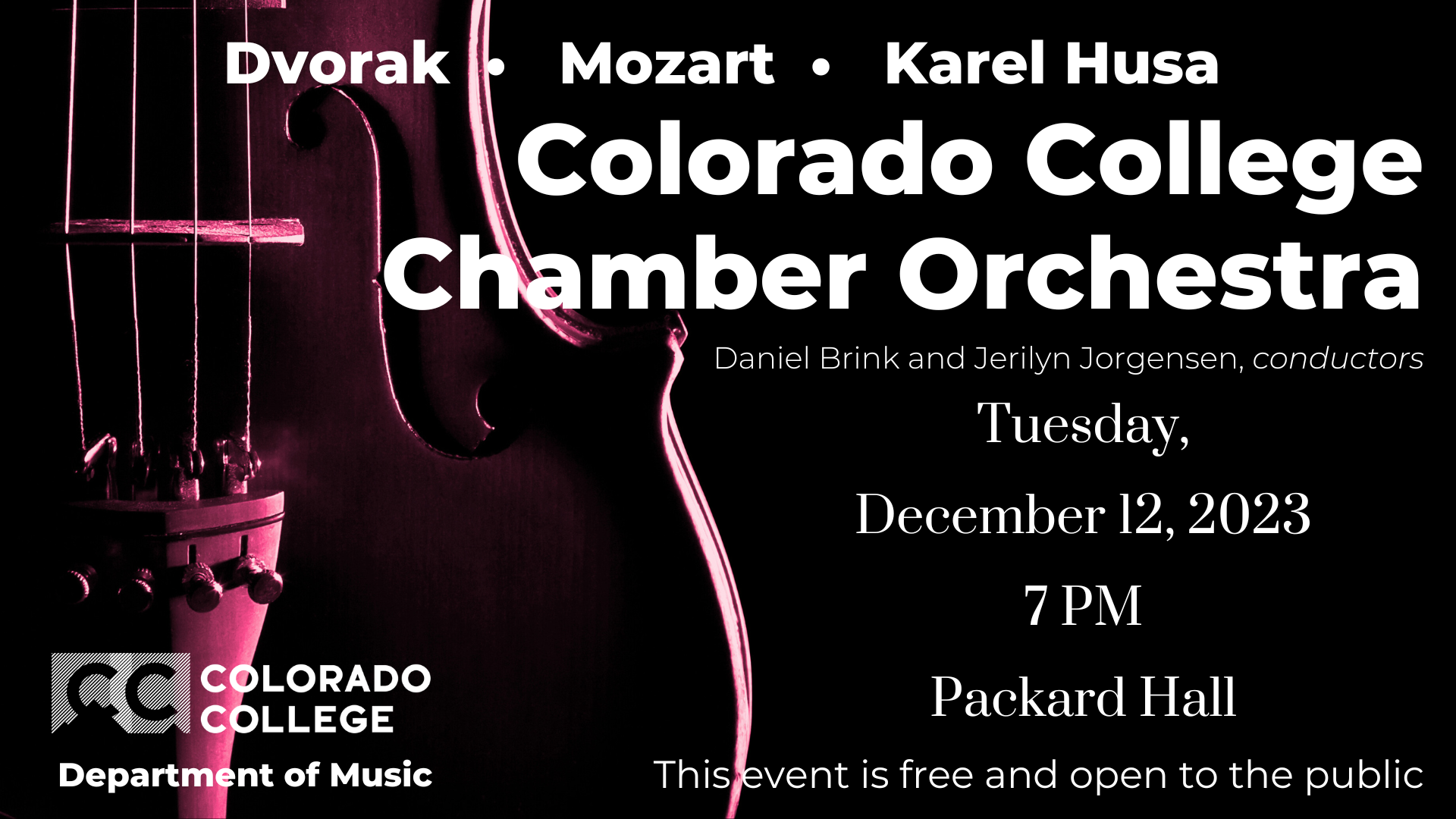 NEW DATE!
The Collegium Musicum Concert, originally scheduled for Sunday, December 9 at 3 p.m., has been rescheduled and will be presented on Sunday, January 28 at 3 p.m. in Packard Hall.
Get Involved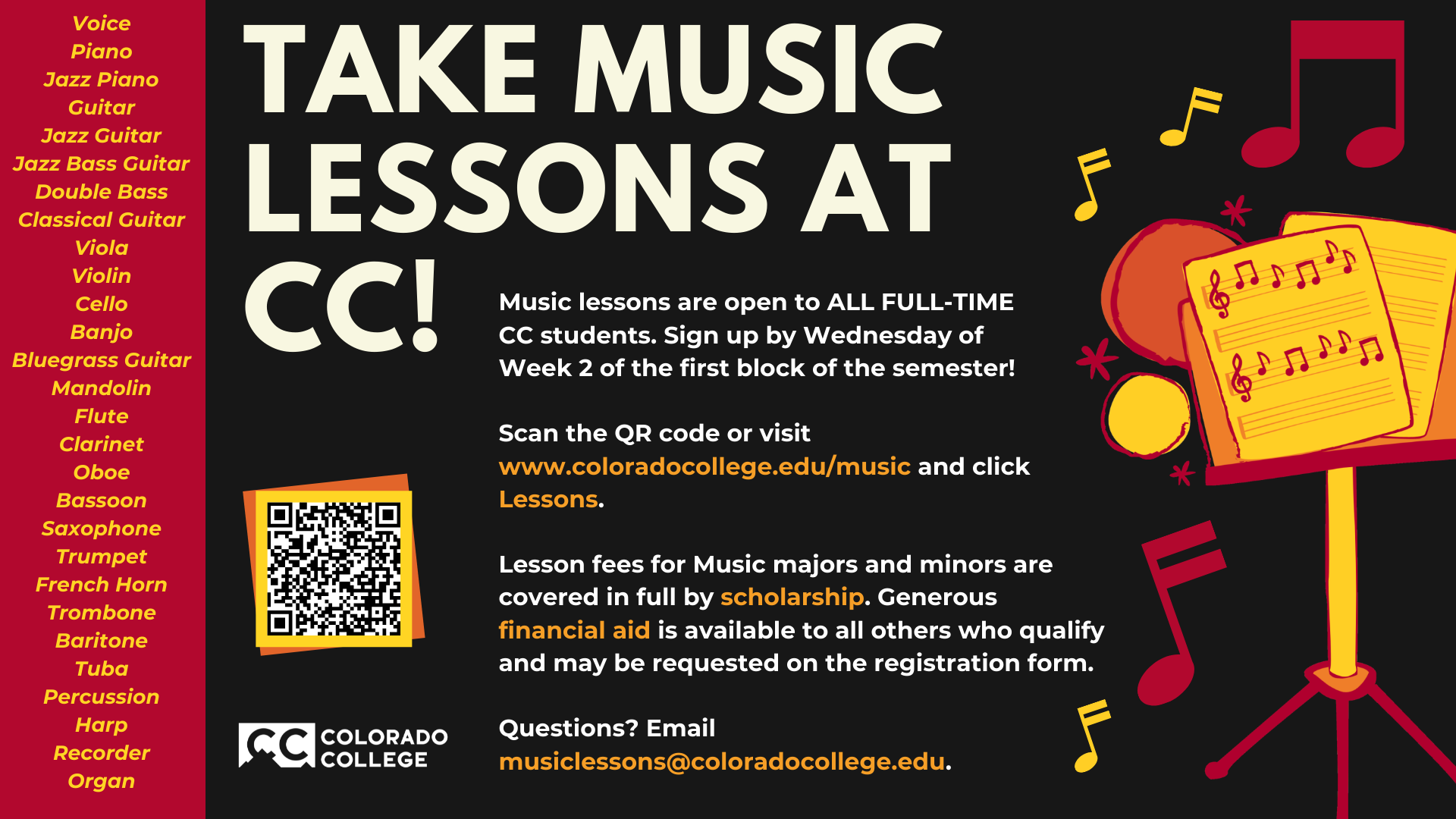 Lesson Registration for Spring 2024 opening Monday, Dec. 4. The deadline is Wednesday, January 31 by 4 p.m.
Please email music@coloradocollege.edu for inquiries.
2022-23 events
Concert Band Concert - May 10, 2023; Packard Hall
View the program
Live from Packard Hall - Feb. 21, 2023
Program
CC Chamber Chorus Concert  - Dec. 4, 2022; Packard Hall
Program
The Crumb Legacy - Oct. 13, 2022; Packard Hall
Program
Chamber Orchestra Concert - May 16, 2023; Packard Hall
View the program
Bluegrass Ensemble Concert - Dec. 8, 2022; Packard Hall
Program
CC Choir Concert - Dec. 2, 2022; Cornerstone Arts Center
Program
The Crumb Legacy - Oct. 12, 2022; Packard Hall
Program
About Us
The Music Department at Colorado College strives to be an all-inclusive place where musicians of all interests and skills can come to participate in music activities. No audition is required to enter the department, and while we offer a course of study for both music majors and minors, all students at Colorado College are eligible to attend our classes and sign-up for our ensembles. In fact, many of the 350 students who are active in the department do so only for their own pleasure.
The Department of Music invites all students to indulge their musical interests, either through participating in adjunct credit lessons and ensembles, or perhaps through an elective course to enhance a different major. Music majors and minors have a growing wealth of options available to explore their specialties in considerable depth and prepare themselves for professional careers in performing, composing, producing, and teaching. Our course offerings range from general and introductory classes to specialized studies in theory, Western music history, ethnomusicology, popular music, composition, and music technology. Our full-time and visiting faculty includes a composer, an ethnomusicologist, music historians, theorists, and world-class performers, as well as a steady stream of visiting professors and performers from many disciplines and from all corners of the globe.
Our ensemble directors preside over a wide variety of group performance opportunities, and our studio instructors offer group classes and private lessons in instruments from the classical orchestra, the concert band, world music, bluegrass, and jazz. Online registration for music lessons is available through the first two weeks of each semester. Need-based scholarships are available for group and private music lessons.
The department occupies Packard Hall, with its acoustically superior 300-seat concert hall, state-of-the-art recording studios and classrooms, sound-proof practice rooms, and teaching studios. The Albert Seay Memorial Library of Music and Art is a unique resource of rare books, scores, and recordings. We welcome you to join us for one of our 80+ performances each year, to sign up for a course, or to participate in making music with us, either as a major/minor, or simply for the joy of it!
If you have any questions, please contact us. We'd be happy to hear from you.