Campus Safety Leadership Team
---
Cathy Buckley
Director, Campus Safety and Emergency Management
cbuckley@coloradocollege.edu
719-389-6707
Catherine "Cathy" Buckley joined Colorado College in the summer of 2018 after 30 years with the City of Colorado Springs, the last ten as a police lieutenant. Cathy brings combined experience in law enforcement, emergency management, and firefighting to the college. She completed the FEMA Professional Development Series and possesses practical experience with floods, fires, and active assailant situations in operations, logistics and as a public information officer. Cathy has a Masters Degree in Public Administration from UCCS. Having lived on three continents before high school, Cathy considers her passport to be her most valuable possession because of the adventures it affords her.
---
Andreanna Trujillo

Associate Director of Campus Safety
atrujillo@coloradocollege.edu
719-389-6707
A proud Colorado Springs native, Andreanna began working at Colorado College in December of 2019, after 20 years with the University of Colorado Colorado Springs (UCCS). Andreanna brings her vast higher educational experience, along with her emergency management experience to CC.  Andreanna is trained and certified in the FEMA Incident Command System.  Andreanna earned her Bachelor's in Organizational Communication and Leadership Studies and Master's degrees in Communication from UCCS.  Andreanna enjoys volunteering, camping, fishing and spending time with her family.
---
Peter Zeitz
Assistant Director
pzeitz@coloradocollege.edu
719-389-6707
A native from Texas, Pete is a veteran of the United States Army. He earned a Bachelor's of Science in Human Services Management. With over fifteen years of experience with Campus Safety, Pete is a CPTED trained inspector, bike officer, and has training in emergency management and verbal de-escalation. Pete enjoys spending time gardening and being awesome!
---
Chris Decker
Shift Supervisor
Chris grew up in upstate New York, where he worked as a New York State correction officer before moving to Colorado Springs. Before joining Colorado College in 2013, he worked as a kitchen design specialist at Lowe's. Chris is married, with two daughters and enjoys spending his free time with them. Chris is an IPMBA certified bike patrol officer and is the midnight shift supervisor.
---
Dwayne Cooper

Shift Supervisor
Originally from New Jersey, Dwayne began working at Colorado College in August of 2006. Dwayne is a decorated United States Army veteran, serving several overseas tours. Dwayne received both his Associates
of Arts degree in Criminal Justice, and completed his Bachelors in Criminal Justice and Security Management, from University of Phoenix. Dwayne is trained in the FEMA Incident Command System, is an IPMBA certified bike patrol officer, trained in conducting CPTED assessments, and supervises special events. Dwayne says that, "one of my most important accomplishments in my life so far is realizing who I really am
and not trying to play up any egos or pretend to be someone I am not; The best thing you can do is to find your true self and be the real you every day. This kind of accomplishment will last for life."
---
 Tyler Koski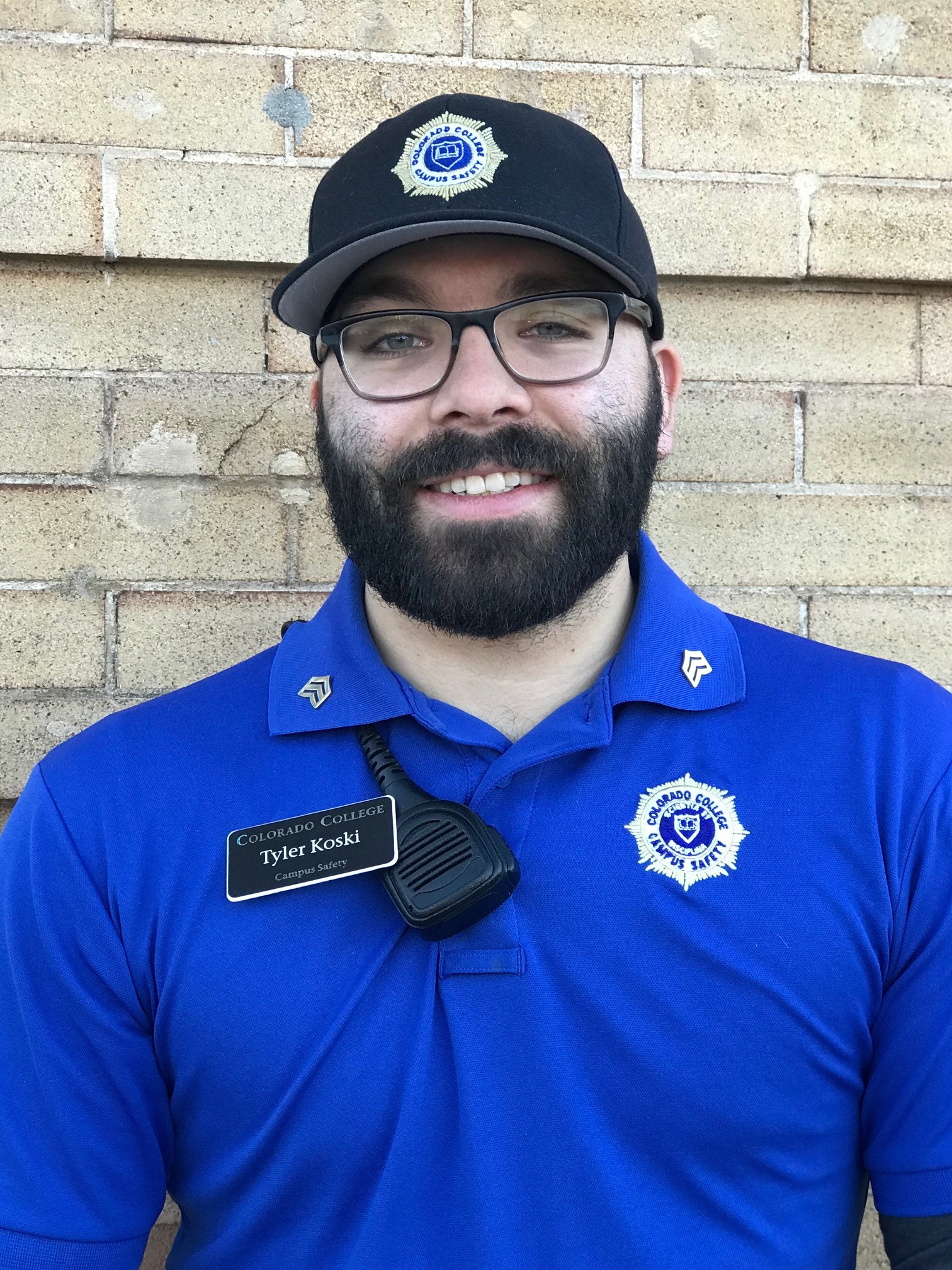 Shift Supervisor
Tyler has served with Campus Safety since 2015. Before being promoted to supervisor, Tyler was the investigator for campus. He has completed Comprehensive Clery training and is IPMBA bike certified. In addition to his work at CC, Tyler owns a gym where he teaches Krav Maga and Judo. Tyler was a member of the United States Ju-jitsu Team competing in Paris in 2014 and in Poland in 2016.
---
Krystal Duran

Parking Supervisor & Coordinator 

Krystal has served as the Parking Supervisor and Coordinator since 2022. As a new position to campus safety, she is working to establish parking procedures and well as building community relations. Krystal is a Colorado native that has work for Colorado College for 11 years.