Lloyd E. Worner Award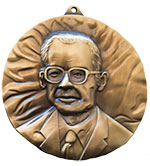 The Lloyd E. Worner Award recognizes outstanding loyalty, service, and generosity to the college as evidenced by continuing concern and support for students and the quality of teaching and learning, as well as the general well-being and future excellence of the institution. These attributes characterized the many years of service and effective contributions of Lloyd E. Worner, Class of 1942, who served as a faculty member, dean, and ultimately president of Colorado College (1964-1981).

Do you know an alumnus/alumna, faculty, or staff member who should be recognized for their contributions to CC or to society? If so, we need YOUR nominations. Contact us for more information. 


Past Recipients
2022
Ian Griffis '85
2021
Karen Rechnitzer Pope '70, P'04
2020
Christine Moon Schluter '65, P'91
2019
William S. Smith '74
2018
Artie Toll Kensinger '53
2017
Ray Petros '72

2016
Thomas A. Fitzgerald '57
2015
Doug Norberg '62
Nancy Pettit Norberg '64
2014
Jack Pottle '77
2013
Gregory James Smith '69

2012
Robin Hall Dunn '06
Barbara Keener '67
Ari Stiller-Shulman '06

2011
Philip A. Swan '84

2010
Bradley Friedman '82

2009
Gail Bundy '62

2008
Edward S. Goldstein '79

2007
Van Skilling '55

2006
Bill Ward '64

2005
William Hybl '64

2004
Laurie Marvin '80

2003
Ann Hunt Hieronymus '50

2002
Judith Reid Finley '58

2001
Ron Rubin '73

2000
Susan Schlessman Duncan '52
Eva Hodges Watt '43

1999
Judge William M. Calvert '44
Henry D. Worley '76

1998
Robert H. Redwine '71
A. Daniel Sheffield, Jr. '69

1997
Willis E. Armstrong '37
Elizabeth Adams Armstrong '40

1996
Robert W. Selig, Jr. '61
Joyce Archer Selig '62

1995
Harold E. Berg '36

1994
Dr. Thomas H. Mahony, III '67

1993
Margaret Tyson Barnes '27
Billie Jean Andrews Fitzgerald '57
Margaret Killian Reid '31

1992
John P. Chalik '67
J. Donald Haney '33
Matilda Willis Weber '31

1991
Malcolm P. Richards '40
Lois Hicks Richards '42
William I. Spencer '39

1990
David B. Shaw '57

1989
Jule Hutchinson Haney '39
Edward H. Honnen '21
Gary A. Knight '67

1988
Susan Arnold Mitchell '57

1987
Arthur E. Baylis '32
Eloise van Diest Skilling '26

1986
Kathryn Bisenius Beimford '42
Constance Postlethwaite Murray '32
William Henry Willie '33

1985
Grace Berkley Brannon '27
Dr. Donald F. Cameron '43
Edward J. Pelz '38
Arthur B. Slack '17
Hermina Schmitt Slack '21