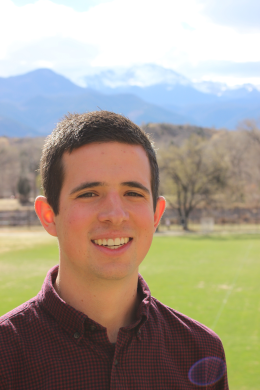 David Andrews '18 has received a Fulbright Teaching Assistantship to Brazil, becoming the fifth Colorado College recipient of a Fulbright this year.
Andrews, of Louisville, Colorado, graduated cum laude with a degree in English in May, and plans to use poetry as a tool in engaging students in the classroom. He is awaiting placement for a position in Brazil that will begin in February 2019. He interned as an English teacher's assistant in Santiago, Chile, while participating in a "Comparative Education and Social Change" study abroad program his junior year, and during that time realized that teaching was his passion.
"I know that poetry can be a valuable tool in engaging students in English classrooms and addressing some of the challenges I experienced while abroad," says Andrews. "There is a rich canon that English learners of various levels can use to understand United States culture as well as the English language and its nuances. Beginner learners can fill in blanks in simple poems, such as the work of William Carlos Williams, in a mad-lib style, to understand how English functions in its simplest form. More advanced learners can dive into a poem by Kay Ryan or T.S. Eliot to learn about extended metaphor and other uses of language."
He hopes to use poetry writing groups and workshops to build community in and outside the school. "Every student can benefit from at least attempting to express themselves in poetry," he says. "In return, I can offer my knowledge of poetic devices, English language poetry, and the possibilities that become accessible once poetry is understood as a tool for self-exploration and boundary-pushing."
Andrews, a Boettcher Scholar, says his training as a peer writing tutor in CC's Writing Center, focusing on tutoring theory and collaborative practice, taught him how to listen, a skill he plans to use in his teaching assistantship in Brazil.
While at CC, Andrews was the editor-in-chief of the Cipher, the student newspaper, and "a somewhat hopeless, but dedicated, intramural captain" of the soccer and futsal teams, he says.
The Fulbright U.S. Student Program is the largest U.S. exchange program offering opportunities for students and young professionals to undertake international graduate study, advanced research, university teaching, and primary and secondary school teaching worldwide. The program currently awards approximately 1,900 grants annually in all fields of study, and operates in more than 160 countries worldwide. The Fulbright Program was established in 1946 under legislation introduced by then-Senator J. William Fulbright of Arkansas. The Fulbright Program is sponsored by the U.S. Department of State's Bureau of Educational and Cultural Affairs.