Peer-Mentoring Program
The peer-mentor program focuses on providing sustainable peer-to-peer connections for current students interested in exploring physics. The program is a low-commitment way to get connected in the department and become a part of an intentional community aimed to support you on your physics journey.
The Basics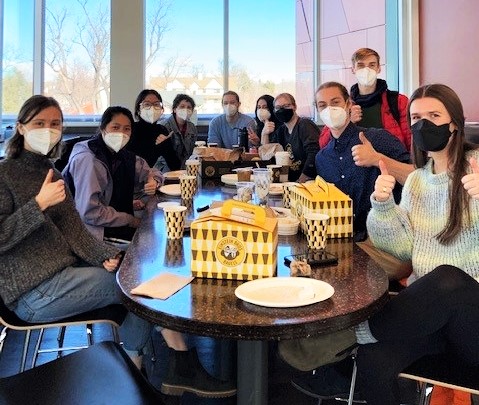 We match new physics students (mentees)  with a senior physics major (mentor).  The Physics Department organizes and pays for about one meet-up each block.  These can be mentor group meetups for tea/coffee or meals, and all-community events such as
telescope night
bagel and coffee breakfast
trip to the CC Cabin
Who should join?
Students taking or planning to take introductory physics PC 241, PC 242, and PC 251
Anyone who thinks they might enjoy studying physics and wants a more personal look at the CC physics experience!
Program Goals
We aim to create an inclusive, honest, and supportive environment for all our mentees.
We aim to develop a lasting community between physics students at different levels of study to create a more cohesive, diverse, and dynamic environment within the physics department.
We aim to break down stereotypes and barriers that exist in physics and related STEM fields. We hope to expose the importance of diversity, collaboration, and community in the field, and place value on new and unique paths to success in physics.
Why be a mentor?
Deciding to be a physics mentor can help you…
Develop leadership and communication skills.
Support the physics community and give back to the department by helping to create a supportive and inclusive environment for all physics students.
Expand your physics network and enjoy new relationships with physics folks.
Create a personal sense of growth and fulfillment.
Strengthen your résumé. This is a voluntary and valuable opportunity.
Why be a mentee?
Deciding to be a physics mentee can help you…
Become a part of the physics community, develop a sense of belonging, and expand your network.
Benefit from a close, dependable relationship with a more experienced physics student.
Improve your academic performance by gaining knowledge and advice from your mentor. 
Gain a personal relationship with a future physics alumni.