2020 Student Photo Contest
Conservation in the West 2020 Poll voters want a more aggressive agenda for protecting public lands and the "outdoor way of life" from energy development. A call for more aggressive actions to protect air, land, and water in response to climate-induced impacts is important to 69% of the voters who self-describe as conservationists. Loss of wildlife habitat is again identified as an extremely serious problem among voters. Nearly half of the voters in the eight Rocky Mountain states consider political support of conservation issues from elected officials as a primary factor in consideration of electing government officials.
Show us the future of the West
"Support for conservation on public lands has remained consistent and strong over the decade-long history of our poll," said Corina McKendry, Director of the State of the Rockies Project and an Associate Professor of Political Science at Colorado College. "The urgency and demand for action behind those feelings are now intensifying as voters in the West increasingly believe their lands and lifestyles are coming under attack from the impacts of climate change and energy development."
The State of the Rockies project invites students to submit up to three photos and a description of each photo(s) taken from the Rocky Mountain West that reminds us of the importance of conservation efforts given recent significant evidence of climate change and the Trump administration's continued efforts to tap the nation's public lands for natural resources.
Contest judges Emma Powell, photography faculty, Stephen Weaver, Geology technical director, and Jennifer Coombes, CC Communications staff photographer announced the winners on EARTH DAY, April 22, 2020.
Contest Winners
1st Place
Spring Creek Fire
Photo by Austin Halpern '20 
This image was taken in the fall of 2018, just a couple of months after the devastating Spring Creek Fire outside of La Veta, Colorado. 2018 was one of the most destructive fire seasons in Colorado's history. Five of the 20 largest wildfires in Colorado history were recorded in 2018 alone. While the fire damage is horrific, what strikes me about this image is the regrowth, the bit of green that symbolizes hope amidst the sea of blackness.

"Austin Halpern's Spring Creek Fire is a striking image that tells the story of wildfires in the west. It illustrates destruction as well as the green hope of recovery. It is very well composed and utilizes great light making it a beautiful intimate landscape image that tells a story." -- Stephen Weaver, Technical Director, Geology
---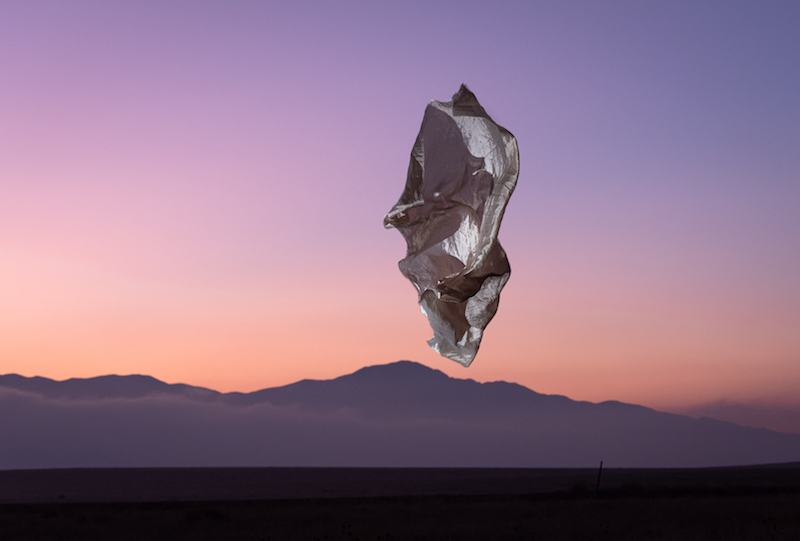 2nd Place
Cloth
Photo by Deming Haines '21
This is an in-camera photograph (not photoshopped) of a cloth thrown up in the air in front of Pikes Peak.
Humans have control over what happens to beautiful landscapes and wildlife. We can use our power to destroy or be stewards of our earth. Our state of mind is in flux just like this cloth floating above Pikes Peak. Even though climate change seems unstoppable, humans can adapt just like the cloth can take a new form according to the breeze.
This photograph to me symbolizes the decisions that humans are currently faced with. We can choose to be a solid mass and come crashing down upon the beauty we take for granted, or we can take a new form, one that listens to our surroundings, one that is encouraged to change, and one that coexists.
For as long as I can remember, I have loved everything that nature has to offer, from the tiniest insects to the largest mountains. I constantly find ways to interact with nature through my love of photography and abstraction. I believe that in order to spread awareness of nature, we must put our situation into perspective. I hope this photograph does just that: show the suspense, the uncertainty, and the beauty that lie before us. But above all, I hope it shows that we can change.
---
3rd Place
Runoff Collection Pond
Photo by Annabel Driussi '20
Concern over water pollution has risen in recent years, such that 85% of Colorado voters polled in 2020 rate this as a serious issue. In 2019, Governor Polis signed bill HB19-1113 (Protect Water Quality Adverse Mining Impacts), taking small steps to minimize mining companies' damage to water supplies. Fascinatingly, support for this bill was primarily framed as a public health concern over clean drinking water, and only secondarily upon the effects of mine tailings upon local wildlife. Legal efforts are being put into effect. But is current litigation enough to counter the effects of almost 200 years of mining history in the state?
Both of these pictures were taken at Leadville at an abandoned silver mine outside the city. In the first photo, young coniferous plants struggle to reclaim land occupied by twisted metal refuse.
"The team of judges chose Annabel's image because it exemplifies the complexities of our current situation in the West. She perfectly composed an image in nature that is negatively impacted by human decisions. Despite the circumstances, or perhaps in spite of the circumstances, the composition draws us in with the unnatural colors contrasted against the shoreline where trash colorfully decorates the ground. The simplicity of this unnatural nature should tell us that this is our trouble. This is our work." -- Jennifer Coombes, CC Communications
---
People's Choice Popular Vote Winner
Zion
Photo by Noah Hirshorn '20
Zion National Park in southwestern Utah is one of the national parks most plagued by overcrowding. Taken on a rainy day in March 2019, fog inhibits the view of a valley that is often the site of heavy traffic and tourists attempting to visit the colossal rock walls. While the designation of a national park ensures that the land will be preserved, the ramifications of increased tourism may very well threaten some of the most beautiful landscapes in the country. While visiting national parks, it is crucial for visitors to abide by leave no trace principles in order to ensure future generations can experience the same wonders.